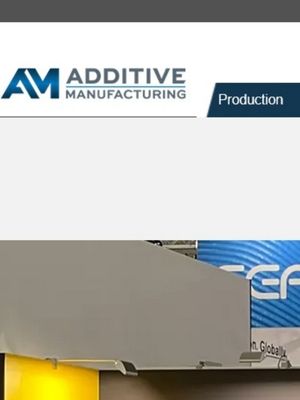 AdditiveManufacturingMedia "Top10 Developments on Formnext 2022"
10 Important Developments in Additive Manufacturing Seen at Formnext 2022 (Includes Video). Read More…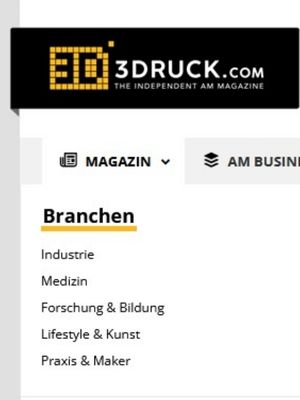 3Ddruck.com: "Drucker und Produkte"
Der 3D-Drucker–Hersteller DUPLEX hat auf der Formnext 2021 seine ersten 3D-Drucker-Prototypen vorgestellt – den DUPLEX F2 und den DUPLEX S2. Read more…
3D Printing Industry's detailed editorial
DUPLEX, an up-and-coming 3D printing technology developer, has showcased its first set of 3D printer prototypes at Formnext 2021 – the DUPLEX F2 and DUPLEX S2. Read more…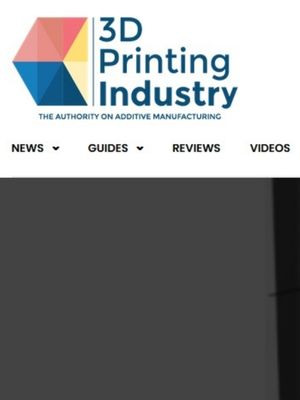 3DNatives: "Printers that amazed us the most at Formnext 2022"
What were the most amazing 3D printers at Formnext 2022? To answer this question, Madeleine Prior, Content Specialist at 3Dnatives, visited the booths of Rapidia, Sinterjet, Namma and Duplex. Read more…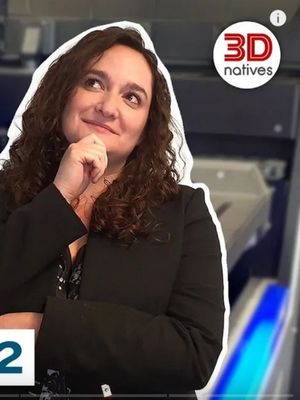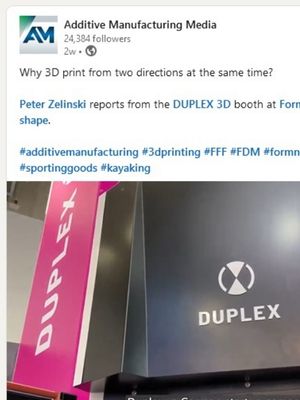 LinkedIn editorial coverage on DUPLEX F2 printer, Formnext 2022
Why 3D print from two directions at the same time? Peter Zelinski reports from the DUPLEX 3D booth at Formnext – Where ideas take shape. Read more…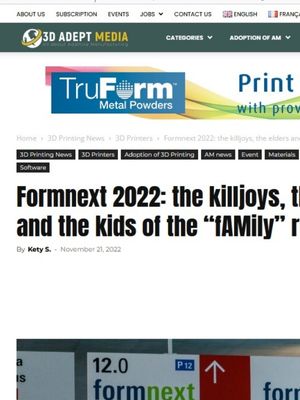 3D Adept Media: "Formnext 2022: the killjoys, the elders and the kids of the "fAMily" reunion"
We just got back from Frankfurt, a European and German city best known for its production of high-quality sausages (frankfurters), but at this time of the year, for AM enthusiasts and specialists, the city becomes the global capital of industrial 3D printing. Read more…