Add Your Tooltip Text Here
The new generation of FDM printers!
DUPLEX F2 is developed based on the patented MAP™ technology, enabling the printing of an object from two different directions at the same time.

The new DUPLEX F2 printer is designed for heavy, industrial application, built from quality parts and assembled with precision to assure the long lasting quality and reliability this new technology truly deserves. Thanks to the multi-directional part growing, the DUPLEX F2 is up to 5-times faster than similar FDM printers due to the combination of its unique features: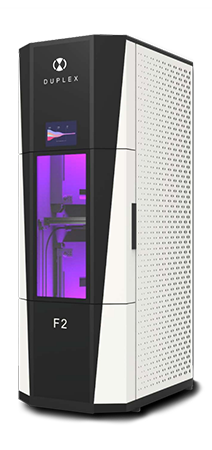 Supports structures are unneccessary for a large portion of geometries

Autonomous operation of multiple print directions

Wide range of thermoplastics
Applicable to PLA, PETG, ABS, ASA and more

Designed for large builds
Build envelopes designed to fit most parts in our target industries

Proprietary slicing software to handle two-way printing​

Optimized for BASF filaments including PLA PRO1
MAP™ technology parallel, simultaneous printing from multiple directions on the same object
Automated mid-section system allows the automatic removal of mid-plate to allow the bottom extruder to access the object and enable parallel printing from top and bottom at the same time
Proprietary DUPLEX software to handle unique MAP™ slicing needs The DUPLEX processing software is a powerful, software tool for 2-way part slicing.
Auto check system advanced part error recognition algorithm
Mash auto calibration mesh plate calibration for perfect part operation
Auto cooling mechanism automated heating and cooling of the build chamber
Remote access WIFI connected to the network for monitoring and control
Remote intervention Maintenance routines are carried out over the air by our DUPLEX technicians.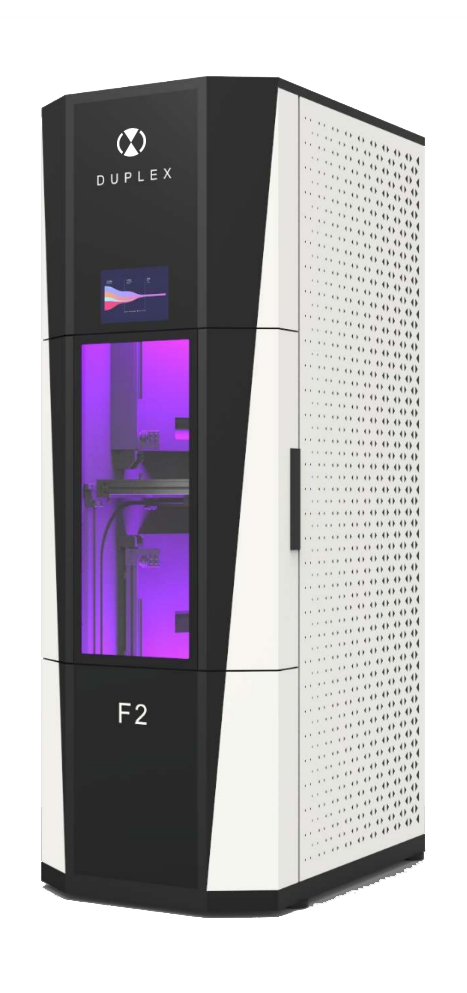 DUPLEX F2
Technical Parameters
Diameter – 400mm
Height – 1000mm
Width – 880mm
Debth – 106mm
Height – 2400mm
PEI covered print plate up to 130 C
Heated Chamber up to 80 C
Z layer resolution 50 – 600 micron
Remote software control
Fully automated system